An Interview with Kathy Thomsen, Election Integrity Idaho, Twin Falls
Editor's note: It is no secret that Facebook founder Mark Zuckerberg has flooded states with "Zucker Bucks" to influence elections through the Center for Tech & Civic Life CTCL. Below is a letter from CTCL to the Board of Twin Falls County Commissioners, awarding a grant in the 2020 election. Thankfully, in May of 2021, Idaho Governor Brad Little signed Senate Bill 1168 into law prohibiting private money to be used for administration of elections, effectively banning CTCL "Zucker Bucks" from operating in Idaho. Nevertheless, Thomsen's account here provides a cautionary tale of how out-of-state NGO's influence Idaho's election process to flip it blue.
Please review the letter before reading on.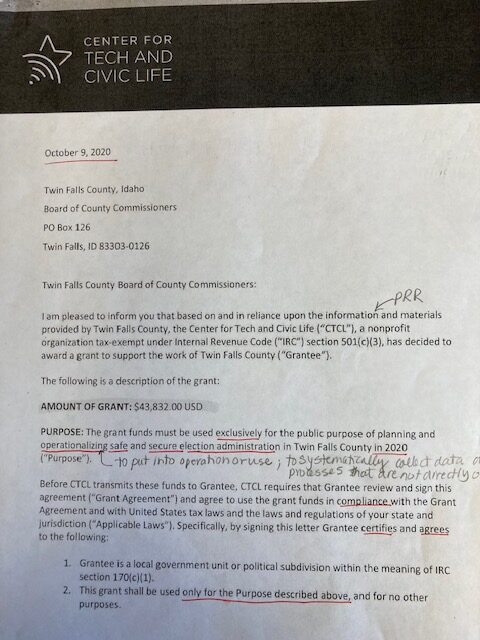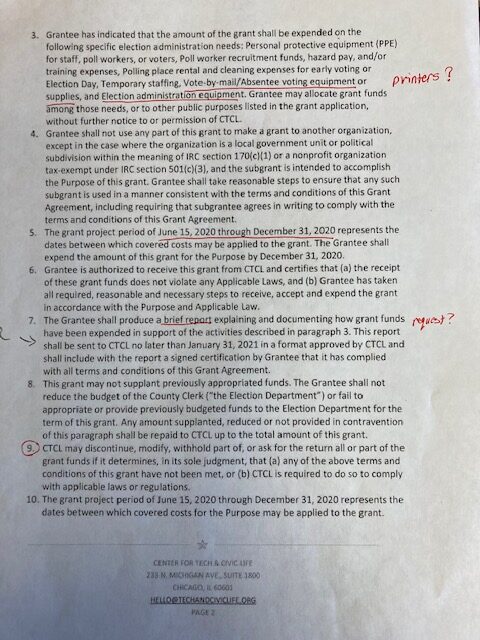 How did Zucker Bucks come to Twin Falls County?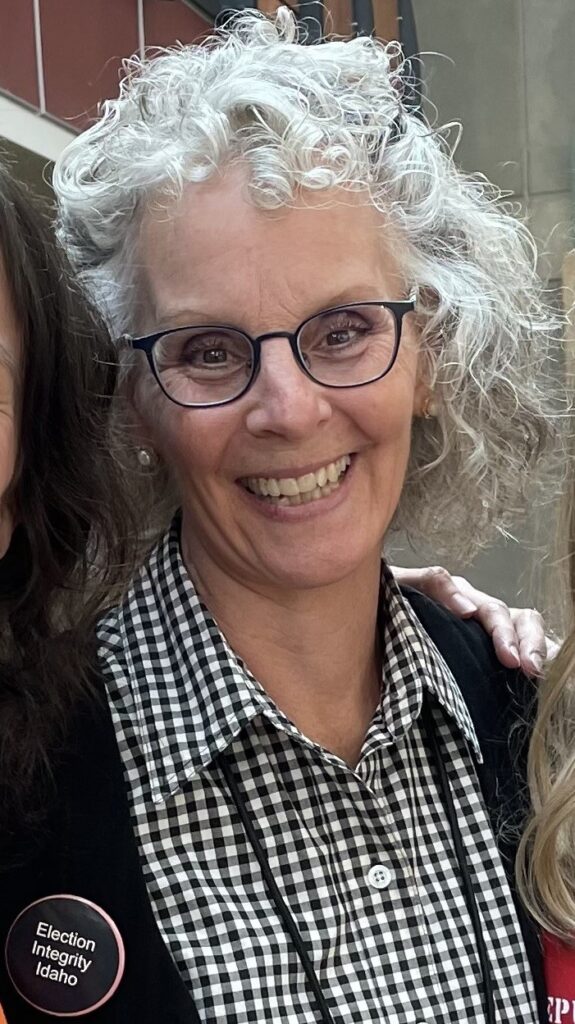 Twin Falls County was awarded a grant from CTCL for $43,833 on October 9th of 2020. This was about 6% of the total CTCL funds allocated to the state of Idaho. In total, the state received $752,287, which was awarded to 20 Idaho counties. The bulk of the funds went to counties which received $489,963.
Election Integrity Idaho's public record request revealed this contract between Twin Falls County and CTCL, and documentation of how the $43,830 was to be spent. By and large, our commissioners followed the rule of the law, and the purpose of the grant, which states funds must be used exclusively for the public purpose of planning and 'operationalizing' safe and secure election administration in Twin Falls County in 2020.
That word 'operationalizing' was interesting, so I looked it up. It meant to systematically collect data on processes that are not directly observable. That's a pretty good description of an electronic voting machine, actually. So that was the purpose of the money, and basically, we're in the middle of COVID as you recall in 2020, so a great deal of the money was spent on what they called PPE (personal protective equipment): masks, wipes, gloves, social distance signs — that kind of thing.
However, the grant also paid for on-demand printers as the e-poll books were brought into Twin Falls County and used for the first time in 2022. So, a voter can come up to the poll worker, present their driver's license, and a specific ballot is printed for that elector based on their ID. The County bought those on demand ballot printers in part through Zucker Bucks – though not entirely.
I think the County followed the letter of the law, and spent the money as outlined in CTCL's contract, so that was all above board.
Not long after Meta announced in February of this year their plans to open a $800 million data center in Kuna, the Idaho Association of Commerce and Industry added to their board Stephen Uy, Public Policy Manager of Facebook. IACI funds campaign dollars to RINOs. Do you think there a tie between Zucker Bucks and the Meta facility in Kuna?
I honestly don't think there's a tie between CTCL and the Meta data center. In 2020, CTCL went in and funded millions and millions of dollars for drop boxes in other states and did so much of the mischief in the swing states, but you don't see that evidence in Idaho. CTCL is the funding arm that launders Zuckerberg's money and used it for drop boxes, and that's where you get all the ballot harvesting, and that was one of the ways that they stole the election. I think the Meta data center has more to do more with implementing The Great Reset.
Election Integrity Idaho is pleased that the county commissioners are receptive to our transparency concerns and have appointed Commissioner Hall as our liaison.
What action would you like readers to take?
I would love for the commissioners to vote to get rid of the voting drop boxes in that we are no longer under an emergency order, the pandemic is over, and they were only used by 3% of the voters. Only 394 ballots in the May election were cast using the drop boxes. I think they are a magnet for fraud, and we just need to get rid of them.
1. I urge your readers to be a VIP and Vote In Person on the day of election, November 8th, if at all possible. But by all means, VOTE! and bring a friend.
2. Voters have the option to hand carry their ballot inside the County West Building to the Early Voting Room (follow the signs) and deliver it in person, or they could deliver the ballot on Election Day November 8th to where they normally vote.
3. Save the Date: Twin Falls County Commissioner Don Hall and Senate Elect Glenneda Zuiderveld are hosting a Town Hall to improve election transparency. Come with your questions and concerns about machines, drop boxes, absentee voting etc. Glenneda will be presenting proposed legislation for the 2023 legislative session. Wednesday November 2nd, County West Building, 630 Addison Avenue West, 5:30 PM (about 1.5 hrs) in the Planning & Zoning room (south entrance of building).
4. Call Twin Falls County Clerk Glascock and tell her you'd like her to come to the above Town Hall on November 2 at 5:30 with Don Hall and Senate Elect Glenneda Zuiderveld.   You can reach her at 208-736-4004.
4. If any of your readers become concerned about nefarious third parties interfering in Idaho elections, they can call me at 208-734-5754.